Inexpensive Gifts for Senior Citizens They Will Love
Wondering what inexpensive gifts to get for senior citizens? These ideas will help you get the best gifts for senior citizens that are practical and enjoyable!
Sometimes it can be a struggle knowing what gifts to give your aging parents or grandparents. Especially if they've downsized to a smaller place to live or if they live in a facility of some kind.
Whether they live in a facility or at home, these inexpensive gifts for senior citizens will make their lives easier and safer. I've tried to keep this list around the $25 price range.
This post contains affiliate links, which means I receive a small commission, at no extra cost to you, if you make a purchase using this link. Please see my disclosure for more details.
Practical Gifts for Senior Citizens for Christmas
So you know your elderly loved one would prefer a practical gift but just don't know what actually is practical? Practical varies from person to person, but basically something they can use to make their life easier.
Some people just make a little basket with some books, a gift card, stationery, and pens or pencils. While this is a great gift, I hope to give you some "outside the basket" ideas that make for practical gifts.
Practical Inexpensive Gift Ideas for Senior Citizens
1. Grabber
A grabber is a great gift for any senior citizen.
This one is 26 inches which in my experience is the ideal length for people to use sitting or standing.
This one has a thumb trigger which I like better than the full grip one. It has a magnet on the tip to pick up small dropped items.
See that little knob sticking up on the end? That is for helping take off socks!
Did you know you can use this to help get dressed and undressed? If not, your loved one may need Occupational Therapy to teach them how.
This one is lightweight and great for picking up clothes, shoes, socks, and blankets from the floor. Just keep in mind if you do get one longer than this, they are more useful from standing.
If your senior loved one has shoulder limitations, a longer one is difficult to use while sitting.
Grabbers make great inexpensive gifts for senior citizens for Christmas or any holiday, birthday, or anniversary.
2. Sock Aid
Do you notice that your senior loved one hardly ever wears socks anymore?
This is one thing I have noticed in a lot of seniors. They stop wearing socks, even in the winter (and they are cold all the time).
And they wear slip-on or easy to put on shoes.
The reason for this is they have great difficulty bending or bringing their leg up high enough to get them on.
A sock aid is a great practical gift for them. This is the sock aid that is the easiest to use.
AVOID the blue sock aid/shoe horn combo that you see advertised unless they only have a little difficulty with this job. Plus it's more expensive. You have no idea how many seniors got this for a gift and it sits in the corner because it's too complicated.
3. Non-slip Houseshoes
A good pair of non-slip houseshoes are a great gift idea for men and women.
Getting styles that don't have a heel are good for people that have trouble getting on shoes. This way in the middle of the night, they can just slip them on easily to get to the bathroom.
Below are some of the best inexpensive gifts for senior citizens for Christmas that I love!
4. Jar Opener
Jar or lid openers are great inexpensive gifts for seniors. The kind that open many different types is great.
You have no idea how many people I've seen in their homes ask me to open their bottle of water or soda for them.
Another one I like is this electric jar opener.
5. Long-handled Sponge
A long-handled sponge is great to prevent bending over to wash lower legs and feet.
Bend this handle so the sponge will lie flat on thee shower floor to wash bottoms of feet. Can also be used to wash their back.
6. Stretchable Braided Mesh Back Scrubber
These braided mesh back scrubbers are stretchable and great for people with limited movement in their arms.
The nice thing is, you can usually find them at Dollar Tree for a dollar. Or get this 3 pack from Amazon.
7. Back Lotion Applicator
More than just applying lotion to the back, use this handy tool to apply lotion to lower legs and feet.
8. Password Tracker
I created this password tracker for myself after being so sick with this virus going around and worrying that my children or family would have no idea what all I had in my online life, but it has been a huge hit with senior citizens. Have them keep track of important login information with this large size tracker. US letter size. Have them keep it in a safe place that you will have access to in the event of their death so you can get into everything they have online.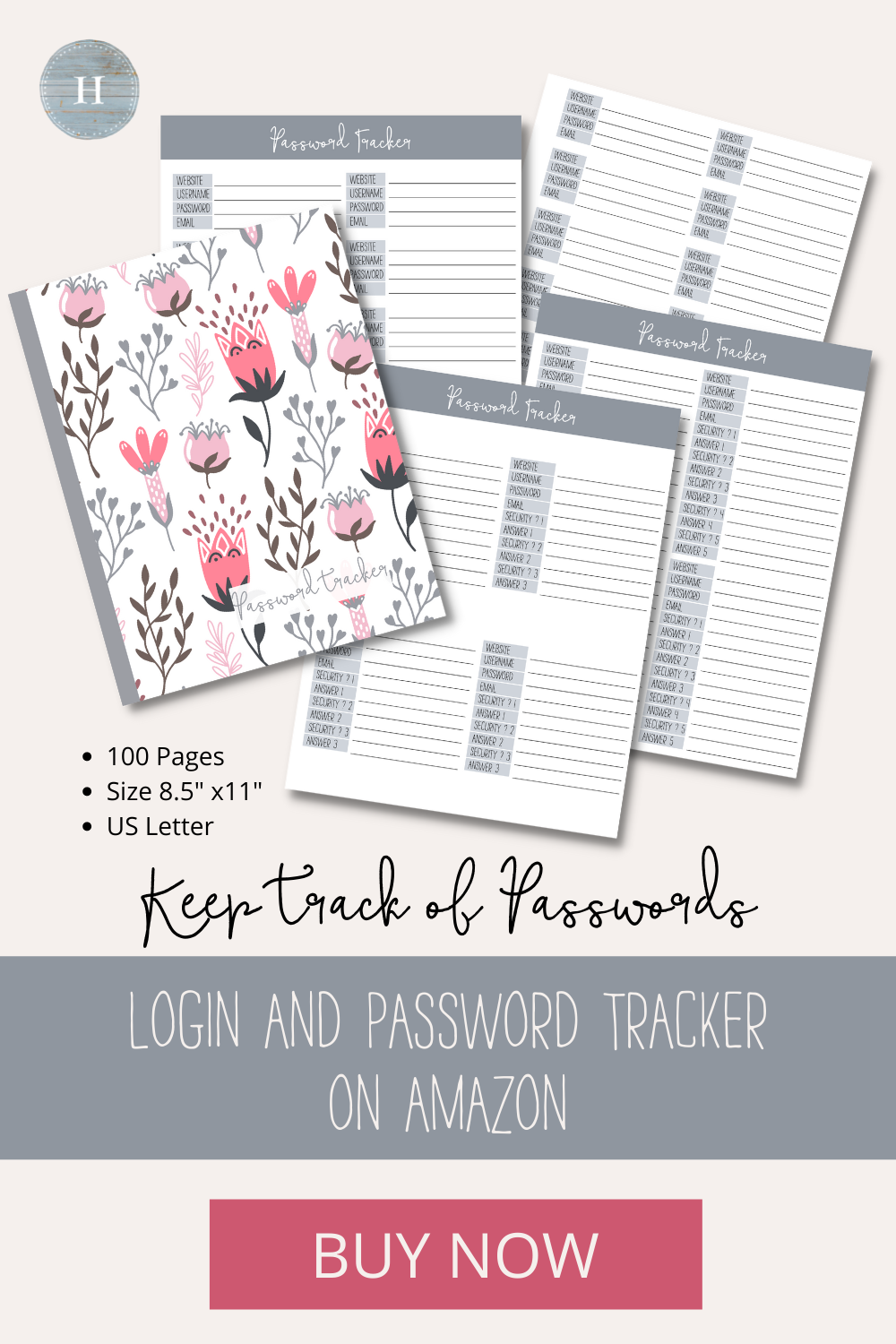 Inexpensive Home Safety Gifts for the Elderly
1. Nightlights
Nightlights are a home safety must for the elderly. It's kind of technical, but a lot of elderly folks lose their balance when they close their eyes, so their risk for falls is greater in the dark.
If you're concerned about this, speak with their doctor about a possible physical therapy evaluation if you see their balance is an issue.
2. Bed Assist
Does your senior loved one have trouble getting in or out of bed? This tool is a great one to provide the stability they need.
This one has a strap that attaches this device to the bed frame which is much more secure than the ones that don't have it.
Just please install it like the video has it installed and NOT like they have it installed in the picture with the lady in it.
3. Automatic Light Switches
Closely related to a nightlight, these automatic light switches are a great gift for the elderly, however you may need a professional to install them if you're not confident in your skills. Better safe than sorry.
4. Car Stander Bar
Does your aging parent or grandparent have trouble standing up from the car seat? This handy portable tool is great for helping them get out of the car safely. Check out the pictures of this product to better understand how it works.
5. Slip Resistant Tape
Although usually used outside on wooden stairs, place on the boards of a wooden ramp to decrease the risk of falls. Especially if those wooden ramps or steps are not under a covered porch or in the garage.
Although it's a good idea to add this tape or similar tread tape to wooden ramps in the garage or indoors as well.
6. Non-slip Socks
I ONLY recommend these to be worn in the home if your loved one absolutely refuses to wear a good pair of non-slip house shoes or regular shoes.
At least these non-slip socks are safer on slick floors than regular socks.
7. Non-slip Bath Rug
I am generally not a fan of rugs in the bathroom because even with a non-slip back the walker legs can get tangled up in them causing a fall risk.
However, when an elderly person is getting in and out of the shower with wet feet, placing a towel under their feet is NOT a safe option. Sooo I am ok with a non-slip rug put down just for that purpose.
Inexpensive Fun/Sentimental Gifts for Senior Citizens
1. Grandmother's Journal
This is the gift that gives back. Sometimes a journal with prompts is great for allowing your senior loved one to reminisce over their life, and you get a gift of family history.
A second option for this is to do a video interview using the prompts from a journal such as this.
2. Photo Album
Most seniors love a photo album filled with pictures of their family and/or friends. Have all those pictures on your phone or social media?
Consider printing some of those off and give your loved one a gift they will love!
3. Puzzle Books
Puzzle books are a gift a lot of seniors seem to enjoy. If they have vision problems, large print books are a good choice. Not only good to pass the time, but great for the brain.
4. Books/Audio Books
If they like to read but vision is an issue, there is always the option for audio books or large print books.
Even if they never liked to read before, sometimes now that they have time it's something they enjoy.
5. Large Print Playing Cards
If they like to play card games but vision is an issue, there is the option for large print cards. Cards are a good gift if you come and play with them and spend time with them.
6. Home-cooked Meals Frozen
Are you a good cook and your elderly parent or grandparent no longer cooks for themselves much?
Why not cook up some extra and freeze them in single or 2-person size portions and stock their freezer with good food they just need to reheat in the microwave or oven!
7. Coupons for Experiences with YOU
Homemade coupons for a promise to take them to their favorite restaurant, a work day at their home, a date to take them to the movies, a spa day, fishing day, or just a time to play a game with you.
Anytime they can redeem the coupon to spend time with you will probably be their favorite gift!
The Complete List of Inexpensive Gifts for Senior Citizens
Non-slip Houseshoes
Jar Opener
Back Scrubber
Back Lotion Applicator
Nightlights
Automatic Light Switches
Slip-resistant Tape
Non-slip Socks
Non-slip Bath Rug
Photo Album
Puzzle Books
Books/Audio Books
Home-cooked Frozen Meals
Coupons for Experiences with YOU
I hope you enjoyed this list of inexpensive gifts you can get for senior citizens! Sometimes it's hard to know what to get them and they usually like things that are useful, make their lives easier, or that involve spending time with their family.
Save For Later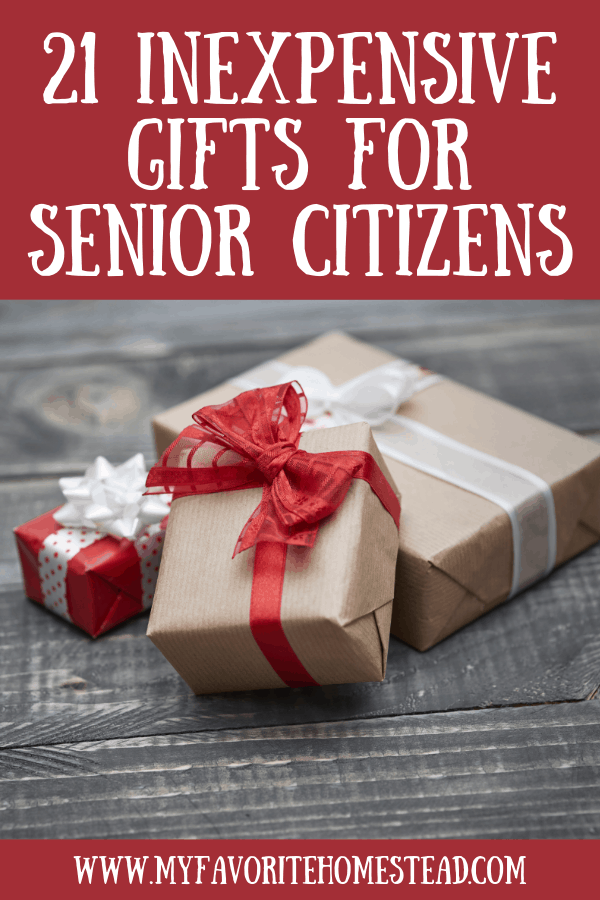 Other Posts You May Like
Plan Your Life Like a Boss! Free Planner